International Paint&Coating Magazine
N. 31 – 2015 JANUARY/FEBRUARY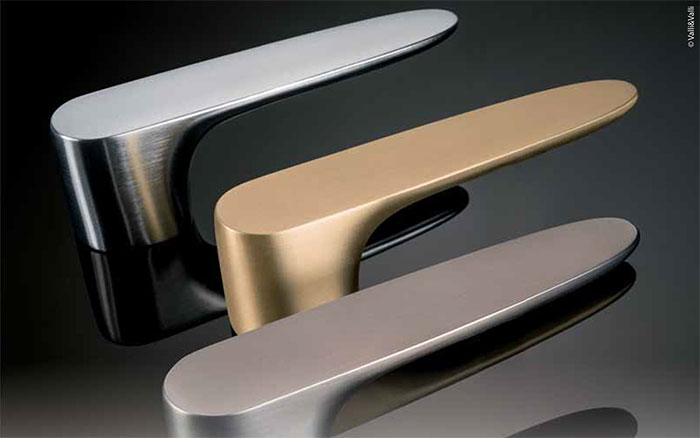 Download the full news in PDF
Valli&Valli: relaunching a well-established brand by innovating the cleaning process
In these years of crisis, capitalising on its history and its strengths can be a means to support the economy of Italy, a Country with a history and a culture envied around the world, because the Italian industrial history has reached and is still able to reach great heights. This, however, does not simply mean celebrating or reminding of the past successes, but rather analysing them to understand the often innovative vision behind them and use it to achieve new successes with new tools. This is also the philosophy followed in the last few years by Valli&Valli, a well-established company based in Renate (province of Monza e Brianza, Italy) that manufactures high quality handles for doors and windows and exports its design and technological know-how all around the world.
Read more
The reorganisation aimed at relaunching the company has also involved the production policies and technologies for those stages that give its handles an added value. "Valli&Valli is becoming again a company able to provide the market with exclusive products that competitors do not offer," Gloria Sormani, the general manager, says. "The commonly understood notion of design has had its day: now, it is necessary to go further and combine it with technological changes in terms of both product and production process. That is why we have reorganised our whole production flow and implemented new technologies in each process step."
One of the stages subjected to a complete technological change has been the cleaning one: considering the importance of finishes for the handles manufactured by Valli&Valli, it is easy to understand that a process aimed at removing cleaning and polishing pastes, which are particularly difficult to remove contaminants, is strategic for the end product quality. The company has replaced an old perchlorethylene machine with a modern vacuum cleaning machine operating with modified alcohols, provided by IFP Europe (Cittadella, Padova, Italy). This system also implements the ultrasound system SONOPUSH MONO® HD of the German company Weber Ultrasonics GmbH, particularly effective and suitable for "complex" cleaning operations.
Valli&Valli
Valli&Valli was established by Pasquale Valli in the 1930s. A designer ante litteram, he was a sculptor who transferred the value of his art to other items, turning them into objects of design. The company now produces a wide range of handles for doors, windows and furnishings, divided into two established brands worldwide: Valli&Valli, including handles with a classic design but also in more modern styles, and Fusital, the company's most exclusive brand since 1976, born from the vision of Pasquale's son Carlo Edoardo Valli. It has been the first Italian brand to offer products created by famous designers and featuring a contemporary design.
In 2008, the company became part of the Swedish group ASSA ABLOY, a market leader with a complete range of solutions for door opening and closing systems and accessories. The acquisition coincided with the relaunch of the Italian firm and represented an important step towards the future. "Valli&Valli is in the midst of a reorganisation plan," Gloria Sormani explains, "and the acquisition by ASSA ABLOY has only been the first step. In the past, an outsourcing policy prevailed as regards our production processes. Now, we are gradually insourcing again those stages that can give a high added value to our products, such as the finishing operations. In this way, we achieve greater flexibility, full control over the end quality and greater speed of response to the market."
This change is a part of a wider process focussing on the capitalisation of Valli&Valli's history and on the creativity and craftsmanship of its finishes in order to offer cutting-edge products that stand apart from the competition. "We have focused on coatings giving an "artisanal" effect to our handles, in contrast to the "brutally" industrial finishes," Gloria Sormani adds. "We have developed a striated matte bronze effect as well as the so-called Cromoton effect, a satin chrome finish covered in black and manually striped, which gives the workpiece a "statuesque" effect. We want to reclaim the concept of the "statuesque" value of handles, reinterpreting it in a modern way and with the most advanced technologies, but always focusing on creativity and craftsmanship."
Production cycle
"Apart from the moulding of the handles and their components and the galvanic treatments, which are outsourced, all other production stages are carried out in-house," Daniele Fumagalli, the production manager, says. "We have not implemented a standard finishing cycle, since much depends on the type of handle to be produced and on the effect to be achieved. For most of our production, the moulding phase is followed by an immersion pickling stage to remove the moulding oils from the surfaces and by grinding, vibratory finishing, machining, finishing, packaging and assembly operations." The range of finishes offered by Valli&Valli is very wide. "Our handles can be polished, satinised or subjected to galvanic coating," Daniele Fumagalli adds. "We can also create antique finishes with an immersion glazing system in which the parts are oxidised, but also apply liquid coatings with an automatic plant."
The importance of the cleaning process and the benefits of the new machine
The cleaning process, which plays a vital role for the quality of a finish, follows the polishing phase and is aimed at eliminating residual greasy pastes, which are very difficult to remove. To fully meet all the requirements of this process and further implement its reorganisation plan, Valli&Valli has replaced its previous perc cleaning machine with the technology of IFP Europe, a company known for manufacturing high-range industrial cleaning machines operating with modified alcohols and completely under vacuum.
The new cleaning system, operational since August 2013, has one chamber and features a modified alcohol vacuum process. "The parts to be cleaned are arranged on our specially designed frames, which, in turn, are placed on a frame with the same size of the chamber. Once within the plant, they are degreased with the Dowclene modified alcohol by Safechem. This occurs with the aid of a last generation ultrasonic system supplied by Weber Ultrasonics GmbH, critical to effectively remove residues of greasy pastes. Generally, the largest components are also subject to tilting."
Last generation ultrasound process for effective cleaning
The ultrasound system of the machine installed by Valli&Valli uses SONOPUSH MONO® HD rod transducers manufactured by Weber Ultrasonics GmbH, a company based in Karlsbad-Iterrsbach (Germany). These are very effective transducers that are more powerful than conventional transducers with the same length, because the surface radiating the sound is broader than that of other similar transducers (360 degree cavitation). Moreover, the use of a rod transducer greatly reduces the maintenance and repairing processes, which is very important for manufacturers.
The 360 degree sound distribution ensures an extremely homogeneous cavitation field, without any gaps or dips, with an efficiency greater than 95% and operating temperatures over 100°C. This type of transducer, available with 25/30 and 40 kHz frequencies, in titanium and on request in steel, is particularly suitable for vacuum cleaning machines (both single and multi chamber) and for "complex" applications such as the removal of polishing pastes. These transducers are also provided with an electronic system that detects any lack of liquid and automatically stops the operation in case the chamber is not full or has a substantial loss.
"All our products are treated in the new cleaning machine. It has a capacity of approximately 600 parts per hour, which meets our current needs, but which can also be increased thanks to the storage buffer placed before the loading area," Daniele Fumagalli explains. "The cleaning phase can virtually be a bottleneck. The previous system was manual and did not enable to create any storage buffer. With the new semi automatic plant, on the other hand, we have significantly increased our production efficiency and created a 1 hour buffer. In this way, the machine can operate autonomously for that time frame, without the presence of any operator. At the moment, the system operates 10 hours a day and can produce 6,000 workpieces. However, if needed, it would be possible to further expand the storage buffer and increase the system's operating capacity."
However, the firm's production efficiency has not improved only thanks to this factor, but also to the possibility of simultaneously cleaning two different materials. "We use mainly two metals: brass and Zamak. The previous perc cleaning plant did not enable us to treat these two metals together, significantly impacting on our production flexibility" Daniele Fumagalli says.
Another positive aspect of the new machine is the reduced maintenance required and the possibility to perform it without stopping the production flow. "The machine is equipped with several filters that can be cleaned in an alternating way. They stop the dry residues of polishing pastes, which are then disposed as inert waste of together with the vibro finishing powders." Also the environmental factor has contributed to the decision to replace the obsolete cleaning machine with a system implementing IFP Europe's technology. "One of the environmental benefits has been the elimination of the large amounts of perchlorethylene previously used, which, as well as having significant environmental effects, required an expensive and complex disposal process. We have embraced the environmental philosophy of ASSA ABLOY making a major investment in technology, even for a reorganisation plan like ours. At the same time, however, we have achieved huge cost savings and greatly lengthened the life cycle of the cleaning bath. Today we consume only a few liters per month of modified alcohol", Daniele Fumagalli states.
Conclusions
Valli&Valli's path of innovation certainly could not overlook such an important aspect as quality, especially in the company's highend market. "The qualitative improvement of both our cleaning process and our end products has been remarkable. The new IFP cleaning system, combined with Weber Ultrasonics GmbH's innovative technology in the ultrasound field, fits perfectly in the reorganisation plan of Valli&Valli," Gloria Sormani concludes.
CE QU'ILS DISENT DE NOUS
Vous trouverez ci-dessous quelques articles écrits par nos clients et publiés dans les publications du secteur, décrivant leurs activités et comment leur utilisation de nos équipements de lavage sous vide contribue à la qualité de leurs produits.