ipcm® Industrial Cleaning Technologies
N.17 – 2020 FEBRUARY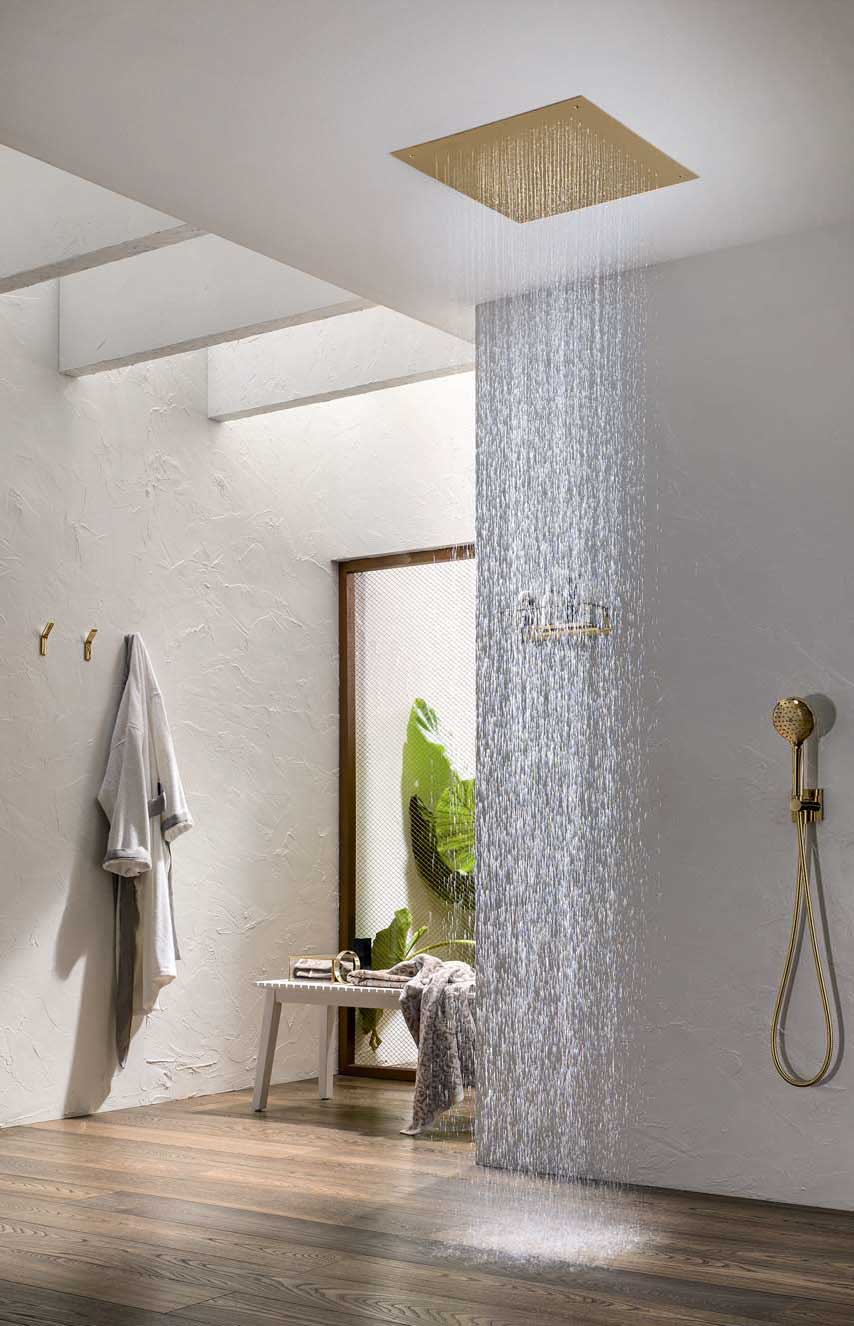 Download the full news in PDF
Cleaning as an added value for the PVD-chrome plated components of high-end shower systems
The concept of BBF ("Bello e Ben Fatto" in Italian) is the most easily recognisable expression of Italy-made products. Almar, specialising in the production of bathroom furnishings, is one of the company that contributes, with the quality of their products, to the success of Italian-made products all over the world. For the cleaning of its bathroom furnishings, Almar chose a vacuum cleaning machine supplied by IFP Europe.
The systems allows the complete removal of contamination from the parts prior to the application of the aesthetic PVD coating.
The "Exporting la dolce vita" report, issued by the Confindustria Study Centre for its 2019 Summit, contains a detailed defi nition of the concept of BBF (Bello e Ben Fatto, i.e. "Beautiful and well made") that has been popular in the Italian luxury industry for some years now: "BBF refers to all those goods that represent Italian excellence in terms of design, care, quality of materials, and processes. These products can come from all production sectors, but they are especially related to taste and creativity. In this sense, BBF goods are the most easily recognisable examples of Italy-made products, as their characteristics are related to the Italian cultural heritage, traditions, landscapes, and works of art and they help shape the idea of Italian industriousness."
Read more
Many of the companies that have contributed and still contribute to the success of Italian-made products all over the world are family-owned businesses with strong ties to the geographical area where they were established and have started growing.
Through the attention to detail and careful investments, these firms have been able to gain a share of the diffi cult-to-penetrate sector of high-end consumer goods. Almar, specialising in the production of bathroom second, nearby factory devoted to mould construction and injection moulding. In 2015, we insourced all metal sheet machining operations by equipping ourselves with technologically advanced systems for the treatment of stainless steel. Finally, two years ago, we installed a PVD machine for the application of the aesthetic coating to cope with the increasing demand for bathroom furniture components with special fi nishes such as, for example, golden and copper effects.
This, however, raised the problem of part contamination prior to PVD treatment. We therefore started a search among cleaning system manufacturers to find the best solution for our requirements. After careful analysis, our choice fell on the KP MAX 600 system supplied by IFP Europe (Galliera Veneta, Padua, Italy), a company specialising in the design, construction, and installation of cleaning systems using modified alcohols and hydrocarbons."
Almar's attention to detail, from products to suppliers
When creating its bathroom furnishing solutions, Almar aims at perfection. "The key requirements of our customers are 'service' and 'quality'," states Civelli. "Our products are distributed all over the world in three diff erent ways. On the Italian market, manufacturers of taps and showers buy our components to complete their systems. On the European market, we have a large network of distributors who resell our products with their brands. Finally, at the international levels, such as in the United States and the Middle and Far East, we sell Almar-branded products in showrooms and stores. As a whole, foreign markets account for 65% of our production."
"Our main goal", indicates Almar Purchasing Manager Mirco Ferri, "is supplying 'perfect' products in every respect, particularly in terms of aesthetics and functions.
This is the reason why we have focused on insourcing all main processes over the years. We were perceiving an increase in the market's demand for quality with a very short lead time and the only way to deal with it was to gain control of our entire production cycle. This has brought us advantages not only in terms of quality, but also in terms of quantity and time."
The attention to detail that Almar applies to its creations is also reflected in the choice of its suppliers. "We do not establish mere trading relationships with our partners," says Ferri. "When choosing them, from material providers to machinery and tool manufacturers, costs are of secondary importance for us: we want to collaborate with companies that not only provide us with quality products, but with which we can build a stable and lasting relation of interaction and knowledge sharing.
In particular, we are always looking for partners that make their knowhow available to us so that we can learn from them and improve the manufacturing process and, consequently, the products. This was also the case for the selection of a supplier for our cleaning system: in addition to the quality of the selected product, we have established a solid relationship with the technical staff of IFP since the preliminary testing stages, performed to verify that their solution was suitable for our needs."
A cleaning plant conceived for a complex production flow
Almar treats components of diff erent materials, such as stainless steel, brass, aluminium, thermoplastic resins, technopolymers, and ABS, for the production of its shower systems. The cleaning phase is crucial for all parts requiring a PVD chrome plating treatment. "The receipt of raw materials," explains Ferri, "is diversifi ed according to their origin.
In the framework of our insourcing project, we will soon integrate our factory with a turning department, but at the moment we still receive bars from an external tuning fi rm; in this case, the problem is determined by the cleaning pastes used for polishing these parts, which can aff ect chrome plating. Another critical issue stems from our in-house machining processes on AISI 304 and 316 super mirror stainless steel: besides the presence of oil and emulsion residues, the laser cutting operation also causes a burn in this material's protective film, thus contaminating its surface; the tests carried out at the IFP headquarters showed that their cleaning system could remove this type of contamination, too. Our cleaning system also had to clean the brass parts to be subjected to painting or galvanic treatment processes, which we still outsource. Finally, some customers send us parts produced by them to be PVD chrome plated and assembled to our components: these workpieces must be subjected to pre-PVD cleaning, too. In general, contamination with oil, emulsions, and polishing pastes was the main problem to solve in order to obtain flawlessly PVD coated surfaces."
Features of the KP MAX 600 cleaning plant
The cleaning system chosen by Almar belongs to the KP Kleen Power series. "Thanks to the fact that it creates a vacuum up to 1 millibar and to its several standard and extra features," states IFP Europe General Manager Giacomo Sabbadin, "this machine is one of the best cleaning technologies currently on the market. Its MAX version guarantees the best results even in very diffi cult applications in term of production volumes and contaminants. Operating completely in vacuum, the system is characterised by the continuous fi ltration and distillation of the liquid, the continuous separation of the emulsion with an automatic water discharge device, and the complete separation of the oil from the cleaning liquid with an automatic continuous-flow discharge system."
"Due to the variety of products we treat," notes Ferri, "we have high production volumes and parts characterised by very diff erent dimensions and shapes. This is why we asked IFP Europe to provide us with a plant capable of handling up to 12 standard baskets simultaneously. These can also be replaced with larger-sized baskets thanks to the specially developed tray frame, as our workpieces can reach maximum dimensions of 70×90 cm."
"In the case of Almar," indicates Sabbadin, "the standard duration of the cycle is approximately 20 minutes, which varies according to the type of dirt to be removed. Additional parameters that can be modified according to cleaning needs are the use of ultrasound, the tilting movement of the basket, the temperature, and the process time."
"One of our main requests to IFP Europe," says Ferri, "was related to the eff ectiveness of the cleaning process for each individual product, but with the possibility to manage diff erent types of parts with the same sequence of cycles. We carried out a study to identify the cleaning sequence for the removal of our three main contaminants that was more functional to our requirements, in order to prevent the liquid from being excessively contaminated despite continuous distillation. Besides the fl exibility of its cleaning cycles and their excellent results on diff erent surfaces and materials, IFP Europe's solution convinced us because it perfectly aligned with our corporate vision of a clean and comfortable working environment and thanks to the linear and clean design of the machine, which is well suited to our product concept."
Conclusions
The analysis of the best solutions for cleaning its components is still on Almar's agenda. "We are constantly looking for perfection," states Civelli, "and the cleaning of our components to be PVD-coated has become a fundamental stage of our production process, so much so that we are considering implementing a second IFP Europe plant in our other factory where the turning department will be started, in order to prevent any part contamination during transport. In order to avoid the presence of any residues or fi ngerprints on the surface of our products, together with IFP's technical staff we are also developing special frames that can directly enter the PVD chrome plating system after cleaning. No detail can be left to chance in order to achieve perfect cleanliness." And this philosophy fully refl ects the concept of "beautiful and well made" that characterises the most successful Italian-made products in the world.
CE QU'ILS DISENT DE NOUS
Vous trouverez ci-dessous quelques articles écrits par nos clients et publiés dans les publications du secteur, décrivant leurs activités et comment leur utilisation de nos équipements de lavage sous vide contribue à la qualité de leurs produits.