ipcm® Industrial Cleaning Technologies
N.17 – 2020 FEBRUARY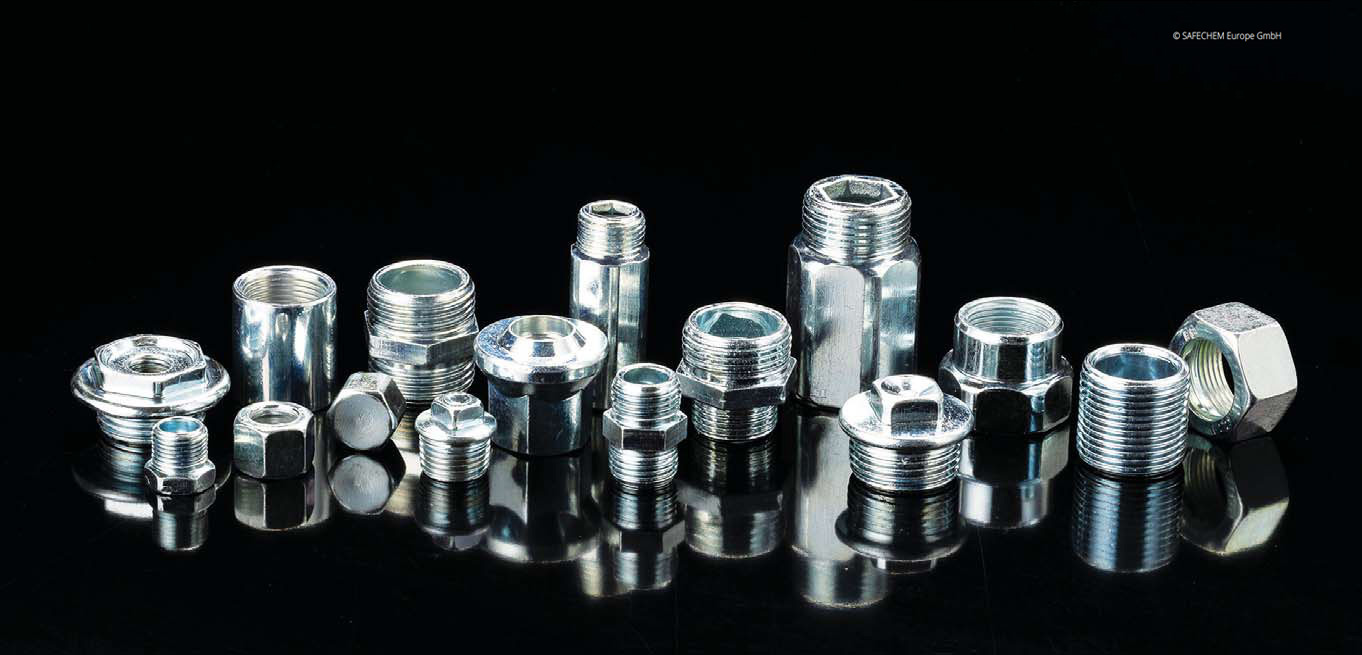 Download the full news in PDF
Effective cleaning process yields operational efficiency gains and 40% energy cost savings
OTERACCORDI chooses modified alcohol solution to meet growing parts cleaning challenges.
The manufacturing of parts for hydraulic fittings, sanitary installations and industrial fixings demands technical expertise, leading-edge technology and quality commitment. The continual pursue of these requirements over decades has made the Italian company OTERACCORDI what it is today – a leader in the fi eld of thermo-hydraulics, sanitary fixing systems and industrial fixings. Since its foundation in 1933, the company has been expanding its expertise and is now operating under four distinct brands, offering products specific to the building sector, heating and plumbing. It also designs and produces customized parts for the automotive sector, agriculture and earth moving equipment.
"Our commitment to technological innovations is fundamental to our success. We have, for example, large, horizontal multi-station presses for cold moulding. There are only very few companies in Italy that have such capabilities. We also have a range of chip removal machines for further processing," said Cristiano Ballan, Head of Production at OTERACCORDI.
Read more
Critical role of metal degreasing in quality assurance
OTERACCORDI uses different metal types, including carbon steel and stainless steel, to produce its large variety of products – from collars, clamping & fixing systems, cast iron all the way to pickled sheet and hydraulic fittings. Since the parts produced are subjected to subsequent internal/external threading, galvanic treatments and packing, the finished and semi-finished components must be cleaned and degreased to an extremely high standard. The volumes and types of metals to be cleaned, along with the complex dimensional and geometric structure of the components, are just a few challenges associated with the metal parts cleaning process. Needless to say, extra care must be taken to ensure that the parts are not damaged during the degreasing phase.
As OTERACCORDI continues to win new contracts on the back of its success, it is proving increasingly difficult to maintain quality and efficiency in metal cleaning activities as there are now far more parts to be handled.
In 2018, it produced 60 million components. On average every single unit produced is cleaned twice. With increased production, the volume of parts cleaning is going to rise further still, up to 120 million pieces in 2019 and 130 million in 2020.
For almost three decades, the company had been using an aqueous based cleaning system for parts cleaning but it was struggling to maintain consistent results.
The significant energy consumption as a result of the long cleaning cycle represented another financial burden on top of the high waste management costs. Now that the production pace would set to intensify further, OTERACCORDI felt increasingly compelled to search for an alternative cleaning solution that would enhance quality standard and operational efficiency.
Cleaning with modified alcohol – high performance results and eco-compatibility
During a trade show visit, OTERACCORDI encountered IFP, a leading manufacturer of modified alcohol cleaning machines. OTERACCORDI had always thought positively about modified alcohols due to their ecocompatibility, and that made it even keener to test out their cleaning effectiveness. For the cleaning trials, IFP recommended the virgin-grade, high-performance modified alcohol DOWCLENE™* 1601 provided by SAFECHEM, a chemical service company.
Produced synthetically, the distillable solvent has both non-polar and polar properties. This means it can effectively remove non-polar contaminants such as fats and oils as well as many water-based contaminations. Its defined and narrow boiling range also makes residue-free drying possible, which results in outstanding cleaning results with high surface tension.
DOWCLENE™* 1601 is also characterized by low toxicity and good biodegradability. Compared to aqueous cleaning, no water is consumed in the process and there is also less space requirement.
Combining IFP's technology with DOWCLENE™* 1601: Cleaning results have us 'sold on the spot'
After a four-month evaluation and testing period, the conclusion for OTERACCORDI was clear – the cleaning test outcomes were so satisfying that the company did not even see the need to try out other technologies. OTERACCORDI decided to invest in the IFP machine model KP 1000 MAX which would run on DOWCLENE™* 1601. The machine operates under full vacuum in all stages, and is designed with two specific ends in mind – reduced energy consumption and oil recovery for reuse in the production cycle. It is also constructed to keep machine maintenance to the minimum. Equipped with fully selfcleaning chambers, there is no risk of bottom deposits or encrustation, nor is there the need to open tanks, chambers and distillers for cleaning. Improved distillation of the solvent, together with filtration and oil separation systems, ensures an optimized process with extremely low disposal and waste management costs.
Cristiano Ballan noted, "When we saw the first trial cleaning results with DOWCLENE™* 1601, we were practically sold on the spot.
Also, the ability of the IFP machine to recover processing oil has been a decisive factor for us since it represents further savings and optimization for the company."
Gains on all fronts – operational efficiency, energy savings and outstanding cleanliness
The new installation went into operation in September 2018. Brenntag Italia, SAFECHEM's distribution partner, supplied a first filling of 2000L DOWCLENE™* 1601 to OTERACCORDI. The delivery of the solvent in SAFECHEM's solvent risk management tool SAFE-TAINER™ System further ensures safe and sustainable transport, storage and handling of the solvent. In close cooperation with SAFECHEM, Brenntag Italia also provides the fi rm with technical support and consultancy to ensure an optimized cleaning process.
The tangible gains as a result of the adopted solution have validated OTERACCORDI's decision to opt for modified alcohol technology after years of aqueous cleaning. "Our cleaning cycle has gone down from 50 minutes to just 20 minutes. What's more, we're able to save at least 40% of the energy costs. Apart from consistent good cleaning results, the quality of surface coatings such as galvanizing or zinc plating on cleaned parts has also improved," Cristiano Ballan summed up the benefits.
Furthermore, OTERACCORDI can regularly monitor the solvent condition using SAFECHEM's MAXICHECK™ Test Kit to ensure optimal solvent management. Results recorded in an operating diary will be forwarded to SAFECHEM who can readily provide recommendation in case of any abnormalities. "Since switching from aqueous cleaning to a solvent cleaning system, the way we work has changed for the better.
We have a great collaboration with SAFECHEM, IFP and Brenntag Italia; and the support we receive on the technical level is first-class. We are really happy with our decision and the resulting outcomes," concluded Cristiano Ballan.
™ Trademark of SAFECHEM
™* Trademark of The Dow Chemical Company
CE QU'ILS DISENT DE NOUS
Vous trouverez ci-dessous quelques articles écrits par nos clients et publiés dans les publications du secteur, décrivant leurs activités et comment leur utilisation de nos équipements de lavage sous vide contribue à la qualité de leurs produits.