International Paint&Coating Magazine
JULY 2013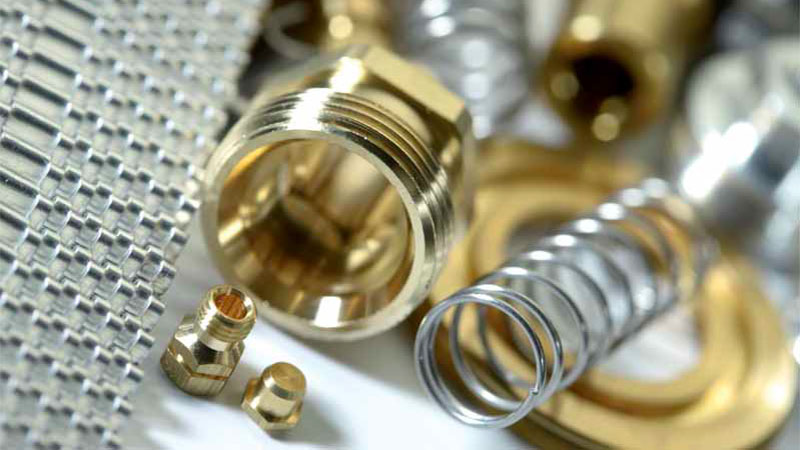 Download the PDF of the full article
Italian technology in high efficiency and low consumption vacuum cleaning machines: IFP's solution
IFP Europe Srl is a company based in Cittadella (PD), Italy..
Established by a team of engineers with extensive experience in the cleaning industry, IFP has positioned itself among the European leaders in its target market in just seven years. The company produces systems for cleaning metal parts of any size: the cleaning machines of the KP range, thanks to the treatment cycle with vacuum values up to one millibar and to the interesting standard and optional equipment, are an excellent solution even where a high degree of cleanliness is required. In their MIKRO, BASIC, HMA and MAX versions, these systems meet the most varied production requirements, from the dental implant surgery to the large die cast components, up to the accessories (Opening Photo). The various versions diff er in the volumes and dimensions of the parts that they are able to process. Furthermore, all the systems can be modified according to customer needs and are delivered only after performing functional tests with the customers and analysing the results in the IFP laboratory to ensure their specific cleaning requirements are met.
Read more
IFP technology
All systems are characterised by:
Continuous filtration of the solvent;
Drying and deodorising of the chips before the opening of the filter;
Continuous distillation of the solvent;
Continuous separation of the emulsion with an automatic water drain system;
Complete separation of the oil from the solvent, with an automatic drain system;
Continuous detection of the operational data;
Remote connection via internet;
Easy access for maintenance.
The vacuum treatment allows to reduce the cycle times and the energy used by the plant, with a 100% increase in production capacity. It perfectly degreases, cleans and dries any kind of component, even in the presence of complex geometries and of blind and capillaries holes, thus drastically reducing the consumption of solvent compared to the atmospheric cleaning machines. Moreover, the solvent is not thermally stressed and maintains its characteristics for a long time, allowing to be reused for many cycles.
"Generally, our cleaning machines are designed to be used with modified alcohols or hydrocarbons, but we are able to adapt to any customer requirements since, in case they wanted to use solvents such as, for example, perchlorethylene, there is no need for any changes", Giacomo Sabbadin, technical director and co-owner of IFP, explains. "When our company was founded, the market was at a particular stage.
The solvents considered ozone-destructive were banned, and many were focusing research and investment on the cleaning technologies with water-based detergents and products. In some fields, however, the detergents could not ensure the level of cleanliness required" Sabbadin continues, "and this forced the users to opt for polluting and hazardous solvents requiring expensive filtering and vapour abatement systems, which made the interoperational cleaning process very expensive and unproductive."
"The cleaning machines are designed, built, assembled and tested at our premises" Sabbadin says. " From the beginning, our research has focused on designing cleaning machines that would use solvents of last generation, high performing and the least possible harmful to the environment. A solvent, whatever its nature, is a polluting product. That is why the challenge of IFP over the years has been to minimise its consumption and completely eliminate the emissions. To ensure this, several solutions have been adopted."
Technical characteristics
The cleaning cycles of the systems produced by IFP occur in a vacuum environment with the aid of ultrasound. Inside the cleaning chambers, there are submerged jets that generate turbulence and splashing to increase the characteristics of the solvent.
"Our vacuum technology also eliminates the well-known problem of 'dragging' with ease, through a system that few manufacturers in Europe implement" Sabbadin explains. "Dragging was a phenomenon that occurred because the parts were dried using fans or chillers; moreover, small accessories are full of blind holes, with many difficult-to-dry areas.
We solved this problem by equipping our cleaning machines with two vacuum pumps: the first one, a vane pump, is used until it reaches its maximum performance; afterwards, a high vacuum pump with a large capacity intervenes to dry and deodorise the parts. In this way, when the cleaning chamber is opened, there are neither dragging phenomena nor emissions."
Low consumption, resource recovery and security
The advantages of the KP range are remarkable, not only in terms of quality and performance. With respect to energy savings, the cleaning machines have been designed focusing on two factors: energy consumption and processing material recovery, e.g. chips, oil and emulsion.
The machines are able to:
completely separate the machining oil from the cleaning solvent so as to recirculate it in the machine tools;
fully treat the chips, which are divided by type. The system is able to recognise the material through optical recognition systems and therefore to direct it automatically to a dedicated filter. With the installation of bypass filters, when the first filter is saturated (as is detected by a special probe), the system automatically directs the fluid to be treated to a second filter and, at the same time, cleans, dries and deodorises the dirty one (an operation that takes place through a system of high vacuum pumps that also manages to dry the packed chips). The operator has to perform only one operation, which is usually done once a week: removing the bag of clean, deodorised and dry chips. In this way, the washing machine can operate 24/7 without problems;
treat the emulsion from the parts through a third vacuum pump ensuring complete separation and recovery of the emulsified water and of any condensate. This process ensures the elimination of stains caused by salt residues on the parts. The treated water is completely separated from the solvent and discharged automatically without operator intervention.
"Our cleaning machines clean thoroughly and in half the time compared to most of the machines on the market. They ensure savings thanks to the very low consumption of resources: a few litres of solvent per year are sufficient, as reported by our customers. On the basis of these data, we try to develop ever more efficient machines" Sabbadin states.
As regards the solvents, the company has made a choice in line with its low environmental impact policy. "We place great emphasis on the use of modified alcohol due to its low environmental impact and on the elimination of waste: with a boiling point of 175°, it can be distilled under vacuum between 90° and 100°" Sabbadin explains. "The solvent, moreover, is recovered through a double distillation unit. When there is too high a concentration of oil inside the first distiller, the second one intervenes to treat the oil (stripping): this operation completely removes the solvent from the oil without stressing the latter.
The oil that we recover is analysed by the major oil companies, which always confirm that it is possible to reuse it, since it retains all of its features."
In terms of safety, the systems used in the IFP washing machines allow to safely use modified alcohol. "In this respect, we comply with the most stringent international standards" Sabbadin says. "The machines are equipped with all the redundant controls (vacuum, temperature, three-step safety). Furthermore, in each heated unit there is a cold exchanger that activates in case the vacuum is missing or the temperature is too high, bringing the liquid to a safe temperature" Sabbadin continues.
High automation, low maintenance
For what concerns productivity, IFP has equipped its cleaning machines with automatic feeding systems that, upon request, can collect the baskets containing the parts to be washed directly from the workstations (e.g. lathes). At the exit from the cleaning machine, it is possible to install a packaging system. "The loading and unloading systems are designed and produced by IFP without the intervention of any external company. In this way, we are the only partner of our customers" Sabbadin says.
To further improve the efficiency of these cleaning machines and their integration into the production cycle, maintenance has been reduced to a minimum. "Normally, the traditional machines need to be opened every morning to be cleaned from the sludge. With our systems, however, this operation is not necessary, because the cleaning chambers are fully selfcleaning: neither residues nor crusts are formed, and it is not necessary to open the tanks, chambers and distillers to clean them" Sabbadin explains.
Upcoming projects
"At the moment, we have many important customers and have already installed hundreds of machines in Italy, Europe and the United States. Many companies have turned to us after unsuccessful searches lasted for several years at the international level and after they had already received many offers without finding the right solution to their problems" Sabbadin says. "I think that one of the key factors of our success, on which we place great emphasis, is the customer assistance. IFP offers a two-year full warranty: this means that, if even one bulb is broken, we will change it completely for free. In addition, we off er assistance with engineers located all over Italy and able to intervene within 4-8 hours. This is a factor that can be decisive for customers that are far away from our headquarters."
"We are now designing a machine that works with mixed water-solvent cycles for some surface treatments that do not involve only the cleaning stage, and we strive to evolve in terms of automation and accessories" Sabbadin concludes.
WHAT THEY SAY ABOUT US
Below are some articles written by our customers and published in the sector publications, describing their activities and how their use of our vacuum washing equipment contributes to the quality of their products.

MACHINES PRODUCTION HORS - SÉRIE
n° 8 / Novembre 2020
Nettoyage : mieux éliminer les pâtes de polissage
C-Maj et Unics ont développé un procédé sous vide, qui utilise deux solvants.

Pneumatica oleodinamica
Ottobre 2020
Impianti per il lavaggio dei metalli con tecnologia robusta per condizioni estreme
Lo sviluppo di IFP Europe nasce dall'investimento nella ricerca e nella progettazione di sistemi tecnologici all'avanguardia.

Trattamenti e Finiture
Ottobre 2020
Perfetta pulizia per micro e macro componenti
Le lavatrici sottovuoto sviluppate da IFP Europe si caratterizzano per la capacità di assicurare un lavaggio perfetto, affidabile e rispettoso dell'ambiente.

ORGANI DI TRASMISSIONE
Novembre 2020
Perfetta pulizia per micro e macro componenti
Le lavatrici sottovuoto sviluppate da IFP Europe si caratterizzano per la capacità di assicurare un lavaggio perfetto, affidabile e rispettoso dell'ambiente.

IPCM® Industrial Cleaning Technologies
2020 OCTOBER
Cappeller
Improved the functional and aesthetic quality of its products by installing a new modified alcohol cleaningplant provided by IFP Europe.

Il Gazzettino
Mercoledì 26 Agosto 2020
IFP Europe alla frontiera "verde" del made in Veneto
L'azienda padovana di Galliera ha messo a punto macchine di lavaggio modernissime ed ecologiche per prodotti in metallo

IPCM® Industrial Cleaning Technologies
MAY 2020
3B Fluid Power
Modified alcohol cleaning solution transforms parts cleaning into strategic advantage

IPCM® Industrial Cleaning Technologies
N. 17 - 2020 FEBRUARY
Almar
Cleaning as an added value for the PVD-chrome plated components of high-end shower systems

IPCM® Industrial Cleaning Technologies
N.17 - 2020 FEBRUARY
OTERACCORDI
Effective cleaning process yields operational efficiency gains and 40% energy cost savings

LE DECOLLETAGE & industrie
SEPTEMBRE 2019
Lathuille Hudry
La première machine à laver hybride de la vallée

MACHINES PRODUCTION
2 SEPTEMBRE 2019
Lathuille Hudry
KP Hybrid, la machine à laver deux en un

EUROPEAN business
2019 JANUARY
The green way to wash
Interview with Giacomo Sabbadin, Managing Director of IFP Europe Srl.

IPCM® Industrial Cleaning Technologies
N. 14 - 2018 OCTOBER
IFP EUROPE
Eco-friendly cleaning plants: FP Europe's key to success

L'AMMONITORE
#3 Anno 74 - Aprile 2018
IFP EUROPE
L'alcool modificato sta riscuotendo molto successo in applicazioni dove spesso venivano impiegati i solventi clorurati o acqua e detergenti.

IPCM® Industrial Cleaning Technologies
n.9 – May 2016
Caleffi
Full automation for the highest quality in component cleaning processes.

METAL CLEANING & FINISHING
n.85 – Gen/Feb/Mar 2016
Nuova Torneria Zanotti
Ritorno al futuro: dall'acqua al solvente

IPCM® Ibérica/Latino América Magazine
N. 13 – 2016 Febrero/Fevereiro
Bitron España
La estrategia del Grupo Bitron para el desengrase eficaz de los dispositivos mecatrónic

METAL CLEANING & FINISHING
Anno XXI – n.84 – Ott/Nov/Dic 2015
Ottoman
Innovare per competere: automazione spinta nel lavaggio della minuteria

IPCM® Ibérica/Latino América Magazine
N. 12 – 2015 Novembro/Noviembre
Ve-Ca
Planta de lavado ecológico para la limpieza de quincallería metálica de precisión

METAL CLEANING & FINISHING
Anno XXI – n. 83 – Lug/Ago/Set 2015
Biomec
Lavaggio di precisione per impianti dentali

INTERNATIONAL PAINT&COATING MAGAZINE
N. 7 – 2015 MAY
Sabaf
Components for gas cooking appliances thanks to the modified alcohol cleaning technology

INTERNATIONAL PAINT&COATING MAGAZINE
N. 31 – 2015 JANUARY/FEBRUARY
Valli&Valli
Relaunching a well-established brand by innovating the cleaning process

INTERNATIONAL PAINT&COATING MAGAZINE
JUNE 2014
Galtech
From perchlorethylene to modified alcohols for cleaning oil-pressure components: a virtuous path

INTERNATIONAL PAINT&COATING MAGAZINE
MARCH 2014
Metal Work
One solution for cleaning multi metal components treated with different cooling lubricants

INTERNATIONAL PAINT&COATING MAGAZINE
OCTOBER 2013
A&B Torneria
Modified alcohols vacuum washing: a success key in the precision mechanical turning field by IFP EUROPE

INTERNATIONAL PAINT&COATING MAGAZINE
JULY 2013
IFP Europe
Italian technology in high efficiency and low consumption vacuum cleaning machines: IFP's solution