EUROPEAN business
2019 JANUARY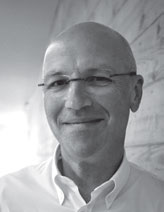 Interview with Giacomo Sabbadin,
Managing Director of IFP Europe Srl
Download the PDF of the article
A key stage in the production of small parts made by grinding, milling, sintering or bending is the cleaning of those parts of processing residues.
IFP Europe Srl in Italy specializes in the production of cutting-edge technological systems for washing small parts and mechanical components. Its focus when designing new machinery is on minimizing water and energy consumption while meeting the needs of various types of production cycle. Although a relatively new player in the sector, the company leads the Italian market and also holds strong positions in the US and France thanks to a strategy based on ecological sustainability.
Read more
IFP Europe was founded in 2010 by Managing Director Giacomo Sabbadin and his partner Alberto Gobbo. "The idea was to build a machine that the Italian market had not seen yet in that form," says Mr. Sabbadin. "Such machines were available elsewhere in the world but were unheard of in Italy. We started producing the machines for the US and Italian markets and enjoyed great success in both right from the beginning." IFP Europe markets its machines under the KP (Kleen Power) brand to emphasize the concept of eco-sustainability. The first to be introduced was KP.HMA, a universal product for the most demanding applications combining high productivity for components with high levels of contaminants.
"As time went by, we introduced other machines to the range, each responding to the needs of our customers," says Mr. Sabbadin. "The most important aspect was to have differently sized machines to handle variations in demand."
We are the number one supplier in Italy for anyone looking for a machine that operates using modified alcohol to remove oil-based residues.
The KP line is book-ended by the KP.30 at one end of the capacity scale and KP.Max at the other. KP.30 is the smallest machine in the range with a capacity of 30 kg per load and the ability to wash 100 kg in ten minutes. The KP.Max comes in three basket sizes, the largest holds 800 kg of parts and takes just 20 minutes per cycle. Other machines in the range include the KP.Easy which promises excellent washing performance in low contamination environments; the KP.Hybrid which allows the combined use of modified alcohol and aqueous detergent solution to ensure perfect cleaning results for both organic and inorganic contaminants; and the KP.HD, a high technology model that is particularly suitable for the removal of polishing pastes.
The latest generation of KP washing machines has been designed to operate in a complete vacuum for outstanding cleaning results from both processing scraps and oily residues without releasing harmful substances into the environment. "KP machines slash consumption by halving processing cycles while still achieving the highest levels of cleanliness," states Mr. Sabbadin. "We use an integrated ultrasound system and universal washing fluids with a low environmental impact to ensure their ecological compatibility.
The market is developing positively at the moment, and we are keen to maximize the available potential by focusing on measures to improve our productivity.
We are the number one supplier in Italy for anyone looking for a machine that operates using modified alcohol to remove oil-based residues." Another advantage of the machines is their ability to completely separate the oil from the washing liquid for reuse in the production cycle.
With 400 machines currently in operation in the Italian market, IFP Europe is the market leader. It also has a strong position abroad with exports of between 35 and 40% to the US, France, Spain, Switzerland, Hungary, Poland, Serbia, Taiwan and China. "We support our sales activities in all of these countries with locally-based service. We provide service engineers, spare parts and training on all of our machines," says Mr. Sabbadin. "We currently sell around 130 machines each year and have production capacity to produce at least two or three machines per week. Next year that will rise to four or five machines per week." This increase in capacity has been facilitated by the inauguration of a new production site and headquarters in June 2018. "The market is developing positively at the moment and we want to maximize the available potential," says Mr. Sabbadin. "We deliver on the key features required by our customers – a green washing machine that does its job efficiently and produces only small amounts of dirty water with very low maintenance requirements. Our foot in the door with many of our customers was the fact that our machines offered the same performance at a far lower cost than their existing equipment. It is no understatement to say that our machines have changed the way they work."
For the future, IFP Europe will be focusing on increasing sales both at home and abroad. "We want to balance domestic and foreign sales in the coming year," says Mr. Sabbadin. "Our order books are almost full, which is why we will also be focusing on measures to improve productivity."
WHAT THEY SAY ABOUT US
Below are some articles written by our customers and published in the sector publications, describing their activities and how their use of our vacuum washing equipment contributes to the quality of their products.