International Paint&Coating Magazine
JUNE 2014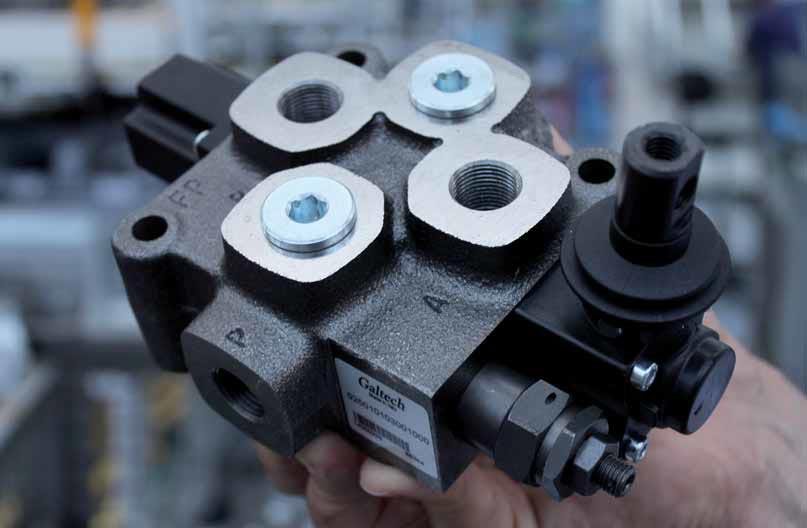 Download the PDF of the full article
From perchlorethylene to modified alcohols for cleaning oil-pressure components: a virtuous path
The perchlorethylene cleaning process, as we have read in some of the previous articles, is still in use for various applications, in which it proves able to ensure cleaning results that other technologies cannot achieve, be it due to the type of contamination on the parts, to their shape or material, or to the cleanliness requirements, which vary widely from an application to another. However, more and more companies are now implementing new technologies that employ solvent with a low environmental impact to replace perchlorethylene as the cleaning agent, to the benefit not only of the environment and the operators' health, but also of a leaner production fl ow and of an increased processing speed. This is the experience of Galtech, a well-established company operating in the oil-pressure fi eld, which in 2013, following an overall reorganisation of the factory layout, invested in a modified alcohols vacuum cleaning system. The plant, produced by IFP Europe, an Italian company based in Cittadella (PD, Italy), replaced the old perchlorethylene machines, inadequate to meet the higher quality and productivity requirements of the company.
Read more
Galtech
For over 50 years, Galtech has been a leading company in the production of oil-pressure equipment. Established in 1955 in Reggio Emilia as Iotti & Strozzi, the company began to operate in the emerging sector of fluid energy control. Gear pumps, motors, valves and cylinders were quickly replacing the old and bulky mechanical transmissions. The lack of knowledge of the new technology and the concerns of the users were gradually overcome thanks to the great willingness of the company: The products were constantly improved, new applications were added, and the market expanded. The company started a mass production and acquired the structure and mentality of a modern and dynamic industry. In 1992, it joined the Gallinari industrial and financial group under the name of Galtech and, in 2011, an important strategic partner entered its share capital: The Interpump Group, an international company operating in the water and oil-pressure fi eld. "Galtech has a turnover of € 15 million/year and manufactures external gear pumps, hydraulic valves and control valves primarily intended for the resale market," Achille Grossi, Galtech's production consultant, says. "Last year, it merged with Hydrocontrol, an Italian company based in Osteria Grande (BO), producing control valves for OEMs, too. Following this merger, the owners have decided to invest in the renovation of the headquarters and in the reorganisation the layout of Galtech's plant, in Reggio Emilia. They aimed at solving some critical production issues that hindered the achievement of certain goals, such as minimising the environmental impact, improving the working conditions in some production stages and streamlining the entire process. We have set up a new factory based on the lean production criteria. These improvements have also involved our final cleaning process, involving 100% of our products. Thanks to the partnership with IFP Europe, with a vast experience in the vacuum cleaning with modified alcohol, we have eliminated a borderline product like perchlorethylene, sped up and streamlined our production, and relieved our operators from some tasks that, previously, were necessary to obtain a cleanliness level that the perc machine alone could not ensure."
Very short production flow
"Galtech manufactures control valves, that is, valves for the distribution of fluids managing the fl ow rate of a hydraulic pump driven by a diesel or electric engine, the core of the oil-pressure system of agricultural and earth moving machines, lifting platforms, and forklifts," Grossi explains. The production cycle is now fast and uniform. The raw cast iron castings are machined with a two-step process in numerically controlled machining centres that remove the chips. Subsequently, the parts are subjected to an extremely thorough cleansing with the task of removing the chip residue and the processing emulsions (water and oil). It is a finishing cleaning process, because afterwards the parts only undergo a superfinishing (lapping) stage on the holes housing the distribution cursors. The neat oil used during the lapping process is left inside the component as a protection. Finally, the parts are assembled and tested before shipment.
From perc to modified alcohol: A virtuous path
"All our products are cleaned: This is enough to understand the importance of having a modern and efficient cleaning plant, able to ensure a high quality level without affecting the environment and the operators' health, but rather fitting into the lean production logic with which we have organised our plant," Achille Grossi states. "With IFP, we have switched from perchlorethylene to modified alcohol as our cleaning agent. This has led to a drastic reduction in the consumption of solvent and in the amount of sludge to be disposed of. It has also set a new standard for the other Group companies, since it has brought good results in terms of both cleanliness level and overall process, from the reduction in the lead time to the unattended operation of machines." "We have been the first ones to buy an IFP system, followed by Hydrocontrol, which has planned the purchase of three more plants, two for them and one for us, the delivery of which is scheduled for August 2014," Davide Cottafava, the head of Machine Tools and CNC, adds. "We have fi ve production lines with which we produce about 600 parts/day. Currently, we have three cleaning machines, but the second IFP system will replace two of them, so that, in the future, we will clean the output of fi ve lines with two plants." "The integration of a new cleaning process was critical, since we need to clean the cast iron parts immediately after the machining operations, without interruptions," Grossi states. "Therefore, we could not afford to make mistakes. Compared to the ones I have seen in many years, the IFP cleaning system is high-performing and has lower operation and maintenance costs."
Advantages of the new system
IFP Europe has installed a modified alcohols vacuum cleaning plant, in line with the other mechanical processing machines. The immersion cleaning is performed with a basket rotating by 360°C, without emissions as well as with reduced power consumption and a minimal amount of solvent. With the previous perc technology, the parts had to be blown manually by the operator to remove the chips from the control valves' conduits. The blow-off stage resulted in a slowdown in the production and in highly variable results, since its effectiveness strictly depended on the manual skills of each operator. Moreover, it was a very impactful and burdensome operation. However, it was the only way to achieve the required quality level, because much of the chip was removed in this stage, rather than in the cleaning one. The perc system, finally, implied burdensome maintenance and sludge disposal operations in terms of both costs and impact on the environment and the operators' health. "With the installation of the IFP system, we have abolished the blow-off stage," Davide Cottafava says. "The cast iron chips exit the cleaning system already dry and the maintenance of the distiller is simple, safe and quick. The productivity is very high: this plant cleans 250 parts/day. When the second one will be installed, replacing our two old systems, we will clean about 400 further parts/day, regardless of their shapes and sizes, covering our entire production needs. The cleaning product consumption, which was very high with perc, is now almost nil: we are using a DOW modified alcohol and we are still using the first supply purchased."
WHAT THEY SAY ABOUT US
Below are some articles written by our customers and published in the sector publications, describing their activities and how their use of our vacuum washing equipment contributes to the quality of their products.

MACHINES PRODUCTION HORS - SÉRIE
n° 8 / Novembre 2020
Nettoyage : mieux éliminer les pâtes de polissage
C-Maj et Unics ont développé un procédé sous vide, qui utilise deux solvants.

Pneumatica oleodinamica
Ottobre 2020
Impianti per il lavaggio dei metalli con tecnologia robusta per condizioni estreme
Lo sviluppo di IFP Europe nasce dall'investimento nella ricerca e nella progettazione di sistemi tecnologici all'avanguardia.

Trattamenti e Finiture
Ottobre 2020
Perfetta pulizia per micro e macro componenti
Le lavatrici sottovuoto sviluppate da IFP Europe si caratterizzano per la capacità di assicurare un lavaggio perfetto, affidabile e rispettoso dell'ambiente.

ORGANI DI TRASMISSIONE
Novembre 2020
Perfetta pulizia per micro e macro componenti
Le lavatrici sottovuoto sviluppate da IFP Europe si caratterizzano per la capacità di assicurare un lavaggio perfetto, affidabile e rispettoso dell'ambiente.

IPCM® Industrial Cleaning Technologies
2020 OCTOBER
Cappeller
Improved the functional and aesthetic quality of its products by installing a new modified alcohol cleaningplant provided by IFP Europe.

Il Gazzettino
Mercoledì 26 Agosto 2020
IFP Europe alla frontiera "verde" del made in Veneto
L'azienda padovana di Galliera ha messo a punto macchine di lavaggio modernissime ed ecologiche per prodotti in metallo

IPCM® Industrial Cleaning Technologies
MAY 2020
3B Fluid Power
Modified alcohol cleaning solution transforms parts cleaning into strategic advantage

IPCM® Industrial Cleaning Technologies
N. 17 - 2020 FEBRUARY
Almar
Cleaning as an added value for the PVD-chrome plated components of high-end shower systems

IPCM® Industrial Cleaning Technologies
N.17 - 2020 FEBRUARY
OTERACCORDI
Effective cleaning process yields operational efficiency gains and 40% energy cost savings

LE DECOLLETAGE & industrie
SEPTEMBRE 2019
Lathuille Hudry
La première machine à laver hybride de la vallée

MACHINES PRODUCTION
2 SEPTEMBRE 2019
Lathuille Hudry
KP Hybrid, la machine à laver deux en un

EUROPEAN business
2019 JANUARY
The green way to wash
Interview with Giacomo Sabbadin, Managing Director of IFP Europe Srl.

IPCM® Industrial Cleaning Technologies
N. 14 - 2018 OCTOBER
IFP EUROPE
Eco-friendly cleaning plants: FP Europe's key to success

L'AMMONITORE
#3 Anno 74 - Aprile 2018
IFP EUROPE
L'alcool modificato sta riscuotendo molto successo in applicazioni dove spesso venivano impiegati i solventi clorurati o acqua e detergenti.

IPCM® Industrial Cleaning Technologies
n.9 – May 2016
Caleffi
Full automation for the highest quality in component cleaning processes.

METAL CLEANING & FINISHING
n.85 – Gen/Feb/Mar 2016
Nuova Torneria Zanotti
Ritorno al futuro: dall'acqua al solvente

IPCM® Ibérica/Latino América Magazine
N. 13 – 2016 Febrero/Fevereiro
Bitron España
La estrategia del Grupo Bitron para el desengrase eficaz de los dispositivos mecatrónic

METAL CLEANING & FINISHING
Anno XXI – n.84 – Ott/Nov/Dic 2015
Ottoman
Innovare per competere: automazione spinta nel lavaggio della minuteria

IPCM® Ibérica/Latino América Magazine
N. 12 – 2015 Novembro/Noviembre
Ve-Ca
Planta de lavado ecológico para la limpieza de quincallería metálica de precisión

METAL CLEANING & FINISHING
Anno XXI – n. 83 – Lug/Ago/Set 2015
Biomec
Lavaggio di precisione per impianti dentali

INTERNATIONAL PAINT&COATING MAGAZINE
N. 7 – 2015 MAY
Sabaf
Components for gas cooking appliances thanks to the modified alcohol cleaning technology

INTERNATIONAL PAINT&COATING MAGAZINE
N. 31 – 2015 JANUARY/FEBRUARY
Valli&Valli
Relaunching a well-established brand by innovating the cleaning process

INTERNATIONAL PAINT&COATING MAGAZINE
JUNE 2014
Galtech
From perchlorethylene to modified alcohols for cleaning oil-pressure components: a virtuous path

INTERNATIONAL PAINT&COATING MAGAZINE
MARCH 2014
Metal Work
One solution for cleaning multi metal components treated with different cooling lubricants

INTERNATIONAL PAINT&COATING MAGAZINE
OCTOBER 2013
A&B Torneria
Modified alcohols vacuum washing: a success key in the precision mechanical turning field by IFP EUROPE

INTERNATIONAL PAINT&COATING MAGAZINE
JULY 2013
IFP Europe
Italian technology in high efficiency and low consumption vacuum cleaning machines: IFP's solution